WELCOME TO 'AT THE RACES' WITH STEVE BYK
Thoroughbred Racing's best known, longest running daily radio news magazine.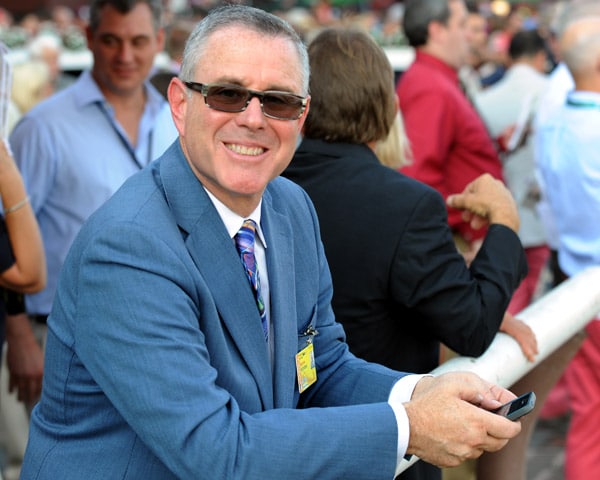 At the Races with Steve Byk' is Thoroughbred Racing's longest-running and best known daily radio news magazine. Airing mornings on SiriusXM Satellite Radio (Sirius Premier 219; XM 201; Sirius Online 964; SXM On Demand), the show can be heard throughout the U.S. and Canada. The live internet broadcast link at enables fans anywhere in the world to listen.
3 hours a day, 5 days a week, 50 weeks a year thoroughbred racing is showcased. Monday thru Friday at 9am to 12pm (replays 6am to 9am). Whether it's Hall of Fame trainers like Bob Baffert & Shug McGaughey, Award-winning Turf Writers like Steve Haskin & Jay Privman or game-changing handicappers Steve Crist and Andy Beyer, 'At the Races with Steve Byk' is the sport's one-stop listening experience.
At The Races with Steve Byk
Listen on Sirius 219, XM 201 and Online SportsZone 964.
Broadcasting Live
Mon thru Fri 9a-12p ET (6-9a ET replays)
Call Us Live on Sirius XM
Communicate live during the broadcast with our host.
Call Us Today!
Call 1-855-4ATR-BYK
(1-855-428-7295) Today!
Send Us Your Comments
Send us an email with your info & questions
We're Standing By!
Email us today!
Broadcast Archives
Past Thoroughbred Horse Racing Shows & Broadcasts
Listen to past Sirius XM shows
National daily news and talk show!
Best of At The Races
Horse Racing's only national daily news & talk
Best of At The Races Broadcasts
Listen to The Best of Steve Byk and friends.
Handicapping Notes
Featured Selections from Steve & Gus Notes
Horse Racing Handicapping
Read all the inside racing news, tips and scoops.
Selections from Steve & Gus
All together, ATR's daily dose of imperative racing info attracts a diverse audience of bettors, racing professionals and passionate fans of the sport. The live broadcast is on Sirius 219, XM 201 & Online Sports Zone 964 from 9:00a.m.-12:00 p.m. EST Monday through Friday (Replayed 6-9a.m. EST next day). Our website not only allows for access to the live show, but the archives include every hour aired going back 6 months. You can also register for convenient podcasts.